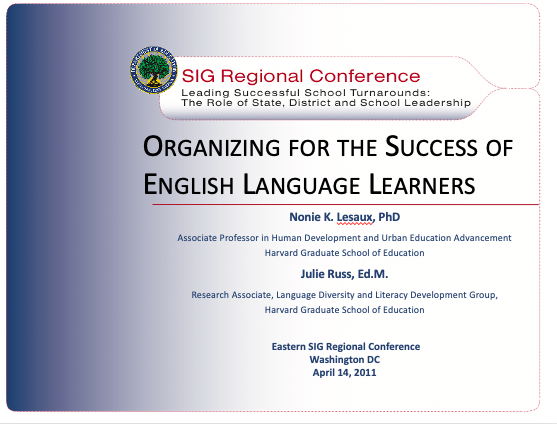 The Center on Instruction is a co-sponsor of the four regional School Improvement Grants (SIG) conferences held in April and May 2011. The second one, the Eastern SIG Conference, was held April 13-14 in Washington, DC, and included a presentation by COI-Literacy Deputy Director Debby Houston Miller and Doing What Works (DWW) Content Lead Peggy Simon on Effective Instruction for Adolescent Struggling Readers: Bridging Research to Practice and Supporting School Improvement Efforts. The PowerPoint presentation and handouts used during the session, including tools from DWW, are available for download below. Also available are the handouts from a breakfast session on Reading Comprehension by Dr. Simon.
Presenting for COI-ELL, Nonie Lesaux and Julie Russ of the Harvard Graduate School of Education, conducted a session on Organizing for the Success of English Language Learners. The PowerPoint presentation from their session is also available for download below.
COI-Math Consultant Ben Clarke and Turnaround Specialist and RTII Expert Joy Eichelberger presented on RTI in Mathematics: A Focus on Assessment. Their PowerPoint presentations are also available for download below.