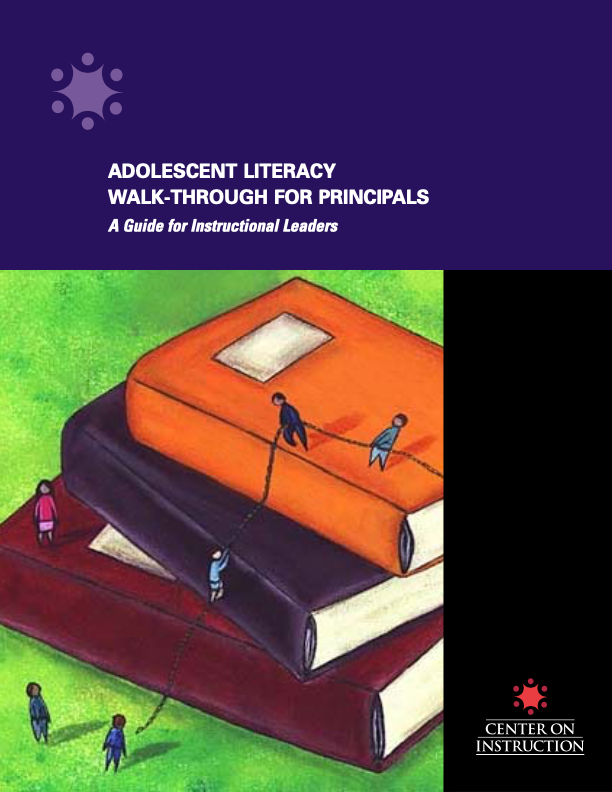 This guide and accompanying scenarios of adolescent literacy instruction, designed to help principals monitor and support adolescent literacy instruction in their schools more effectively, can be used at the late elementary school level, in content-area classes in middle and high school, and with intervention groups or classes. It provides a scaffold to build principals' understanding of scientifically based reading instruction, as a means for a principal to gather information about the quality of literacy and reading intervention instruction in a school, and as a data collection guide for planning targeted professional development and resource allocation. It includes examples of what a principal might expect to see in a classroom as well as templates that states, districts, and schools may use or adapt.
The supplementary scenarios, in response to requests from the field for illustrations of the concepts in the guide, provide examples of adolescent literacy instruction for 4th and 5th grade classrooms, and both content-area and reading intervention classrooms in grades 6-12. It also contains a brief summary of the walk-through guide itself, an orientation to the scenarios, and suggestions for ways to use them.
The Center on Instruction held a webinar in August 2009 as an orientation to the guide and to explain how an adolescent literacy principal walk-through process can be used to support state and district literacy plans. The archived WebEx file and PowerPoint presentation can be accessed here.
These materials can assist schools who are implementing School Improvement Grants (SIG) by using classroom observational data to strengthen instruction as well as for implementation of the College & Career Ready Standards (including Common Core State Standards).
Adolescent Literacy Walk-through for Principals A Guide for Instructional Leaders
CBI Adolescent Literacy Walk Through for Principals
Eight Scenarios Illustrating the Adolescent Literacy Walk-through for Principals