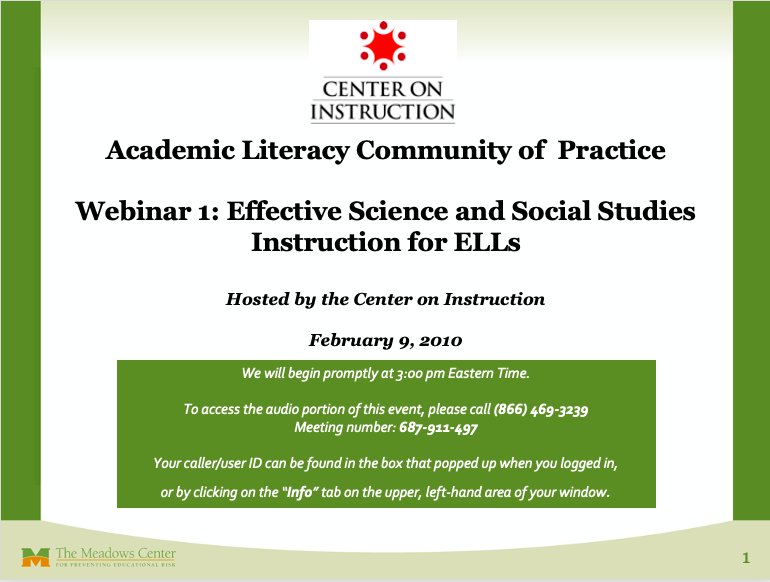 The Academic Literacy Community of Practice webinar series provided Regional Comprehensive Center staff an opportunity to engage in an interactive learning process with Center on Instruction staff centered on adolescent literacy best practices used in traditional content-area classrooms in grades 4-12, including differentiated instruction for students with language needs, struggling students, and students with disabilities, and methods for disseminating useful information and resources to SEAs to enhance state-level literacy professional development. In a series of five webinars held from February 2010 to June 2010, implementation of best practices were examined and discussed within an RTI context where applicable. Each webinar is described below, with a link to the archived WebEx file, and PowerPoint presentations are available for download below.
In the first webinar, Enhancing Academic Literacy of ELLs in Science and Social Studies Classrooms, held February 9, 2010, David Francis, COI-ELL Strand Director and Director of TIMES, University of Houston, and Leticia Martinez and Colleen Reutebuch of The Meadows Center for Preventing Educational Risk at The University of Texas at Austin, provided an overview of two experimental studies aimed at boosting the academic achievement of older English learners. To access the archived WebEx, click here.
The second webinar, What Social Studies Teachers Can Do to Help All Students Understand (and Like) History, held March 11, 2010, presented by Cynthia Shanahan, Professor of Literacy, Language, and Culture at the University of Illinois at Chicago, discussed the research she and colleagues have done with expert historians regarding their reading strategies and practices. The archived WebEx file can be accessed here.
The third webinar, The Content Literacy Continuum: A Tiered Framework for Secondary Schools, held April 30, 2010, presented by Dr. Don Deshler, Director of the Center for Research on Learning (CRL) at the University of Kansas, discussed the Content Literacy Continuum (CLC), a tiered framework of academic supports designed to address the academically diverse needs of adolescent learners in subject matter classes in middle and high school settings. The archived WebEx file can be accessed here.
The fourth webinar, Teaching Academic Language to English Language Learners, held May 11, 2010, presented by Dr. Robin Scarcella, Professor in the School of Humanities at the University of California at Irvine, discussed the challenges that students face when they cannot understand content instruction or participate in classroom discussion because they lack academic language skills. The archived WebEx file can be accessed here.
The fifth webinar, Current and Ongoing Research in Secondary RTI, held June 10, 2010, presented by Dr. Greg Roberts, associate director of The Meadows Center for Preventing Educational Risk, director of the Vaughn Gross Center, and Director of the Special Education Strand of the Center on Instruction, provided an overview of current and ongoing research in academic literacy, which can be useful when implementing RTI in secondary schools. The archived WebEx file can be accessed here.
This resource can facilitate the strengthening of English/Language Arts instruction and disciplinary literacy for implementation of the College & Career Ready Standards (including Common Core State Standards) and support broader school improvement efforts, including the implementation of School Improvement Grants (SIG), by facilitating the acceleration of reading instruction for diverse learners, including struggling students, students with disabilities, and English language learners.
Current and Ongoing Research in Secondary RTI Enhancing Academic Literacy of ELLs in Science and Social Studies Classrooms Teaching Academic Language to ELLs The Content Literacy Continuum – A Tiered Framework for Secondary Schools What Social Studies Teachers Can Do to Help All Students Understand