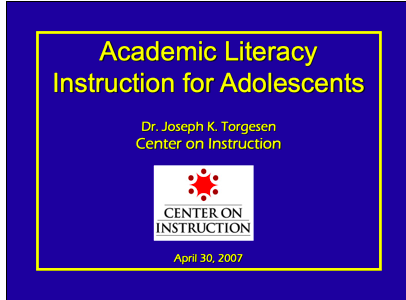 In a video conference held April 30, 2007, Dr. Joseph Torgesen of COI's Reading Strand provided an overview of the newly released "Academic Literacy Instruction for Adolescents: A Guidance Document from the Center on Instruction." To view the archived video, click here.
A PowerPoint with speaker notes used in the video conference is also available for download below. In order to view the PowerPoint presentation in "speaker notes" format, you must "save"  the file to your computer.
This webinar, in tandem with the guidance document, can facilitate effective literacy instruction in schools that are implementing School Improvement Grants (SIG) and/or College and Career Ready State Standards (including Common Core State Standards).