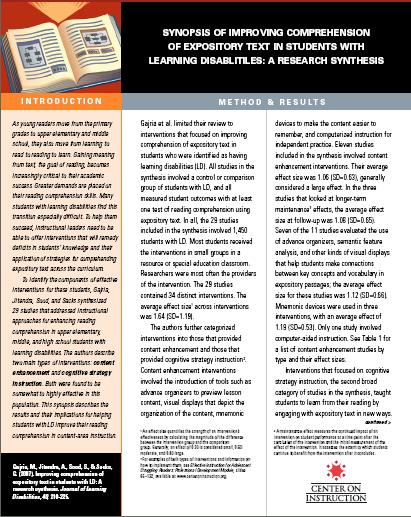 This synopsis of "Improving Comprehension of Expository Text in Students with Learning Disabilities: A Research Synthesis" discusses the results of a synthesis of 29 studies that addressed instructional approaches for enhancing reading comprehension and their implications for helping students with LD improve their reading comprehension in content-area instruction. The authors describe two main types of interventions: content enhancement and cognitive strategy instruction, both found to be highly effective in this population.
This resource can facilitate the strengthening of reading and English/Language Arts instruction for implementation of the College & Career Ready Standards (including Common Core State Standards) and support broader school improvement efforts, including the implementation of School Improvement Grants (SIG), by facilitating the acceleration of reading instruction for adolescent struggling readers and students with disabilities.
The Center on Instruction hosted a webinar in June 2008 with author Asha Jitendra to discuss the results of the synthesis. The archived WebEx file can be accessed here.
CBI Synopsis of Improving Comprehension of Expository Text
Synopsis Improving Comprehension