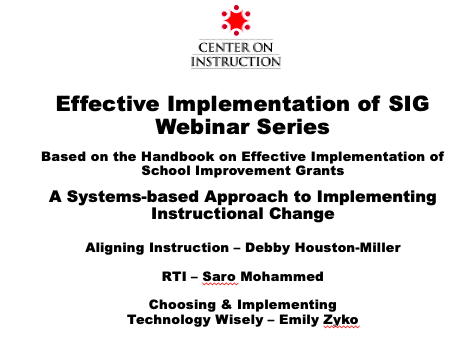 This webinar is the first in a series of School Improvement Grants (SIG) webinars designed to provide key principles, action steps, and useful resources that support the initial Action Planning Steps identified in the Handbook on Effective Implementation of School Improvement Grants, which was developed by the five regional content centers.
This webinar addresses District and School Action Principles, Other Considerations, and Resources and Examples for: Aligning Instruction, RTI and Implementing and Choosing Technology Wisely.
The archived webinar is available here. Also available for download is the PowerPoint presentation used during the webinar, with extensive speaker notes, which can be used as a professional development tool for SEAs, districts, and schools, as well as a list of resources to provide further assistance in implementing the School Improvement Grants (SIG) initiative.
SIG Webinar 1 A Systems-based Approach to Implementing Instructional Change