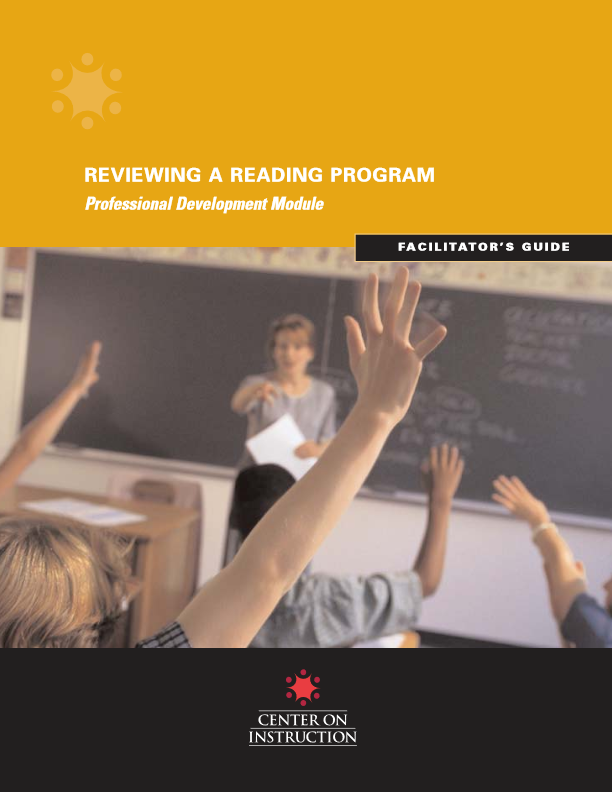 This two-day professional development module based on the Florida Center for Reading Research's "Guidelines for Reviewing a Reading Program" is designed to guide reviewers of reading programs through the review process to determine if a program is consistent with the scientific research on reading.
Now this resource is available in an easy-to use Word format (below) which reviewers can now use to enter their scores electronically.
The Participant's Guide contains resources (charts, summaries, and the Guidelines themselves) that are discussed during the professional development session but it can also serve as a stand-alone tool for reviewing any reading program.
The Center on Instruction held a webinar in February 2009 to introduce this PD module, along with three other recently released elementary school level products, and to identify how it might be helpful to RCCs in their work with states. The archived WebEx can be accessed here.
These resources can facilitate planning an effective instructional program in schools that are implementing School Improvement Grants (SIG) and/or the College and Career Ready Standards (including the Common Core State Standards).
CBI Reviewing a Reading Program PD Module
Reviewing a Reading Program Facilitator's Guide
Reviewing a Reading Program Participant's Guide
Reviewing a Reading Program PowerPoint Presentation RRP Checklist Template Revised