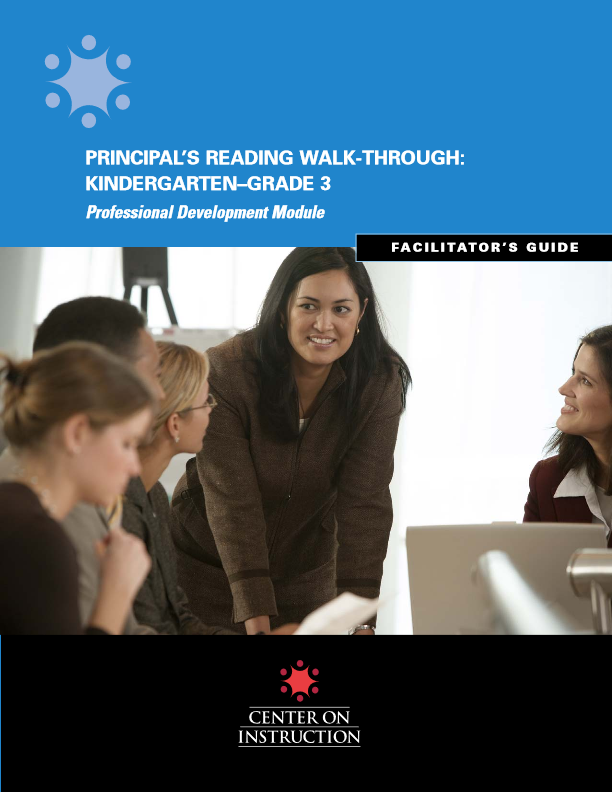 This is a suite of professional development materials designed as a user-friendly tool for classroom walk-through implementation that can identify research-based reading instruction in the classroom quickly and accurately. This set of resources can facilitate the strengthening of instruction when implementing School Improvement Grants (SIG) through the use of classroom observational data.
It includes a Participant's Guide, a Facilitator's Guide, a PowerPoint Presentation Module for Facilitators (with embedded video clips of classroom scenarios), and a Principal's Orientation PowerPoint Presentation with speaker notes, to be delivered by principals to introduce the PRWT to their staff. The recommended delivery is a one-day session followed by a half-day session scheduled within a four-week time span, a weekly study group, or self-guided instruction. If you have trouble downloading any of the files, please contact us at coi-info@rmcres.com for a DVD copy.
The Center on Instruction held a webinar on February 28, 2009, to introduce this PD module, along with three other recently released elementary school level products, to identify how it might be helpful to RCCs in their work with states. The archived WebEx can be accessed here. 
CBI Principal's Reading Walk-through K-3 PD Module
PRWT K3 Principal Orientation PPT PRWT K3 Facilitator Guide
PRWT K3 Participant Guide