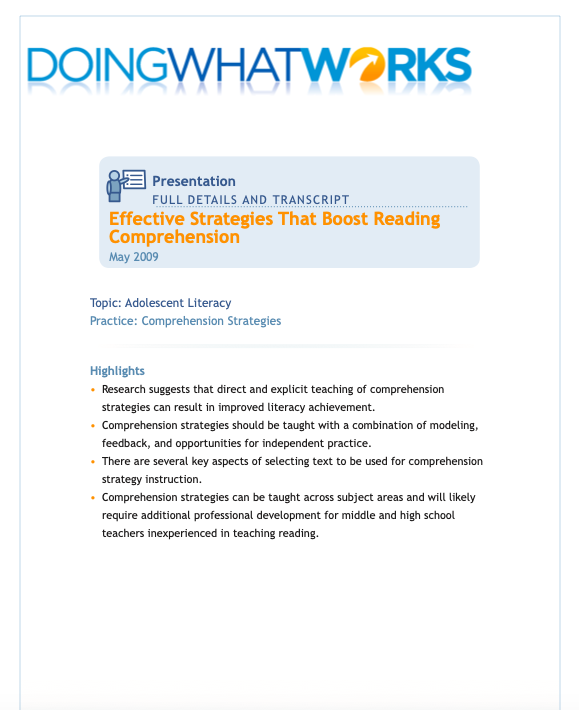 The Center on Instruction is a co-sponsor of the four regional School Improvement Grants (SIG) conferences being held in April and May 2011. The third one, the Midwest SIG conference, was held May 18-19 in Chicago, and focused on "Leading Successful High School Turnarounds".
COI-Literacy Deputy Director Debby Houston Miller, along with Peggy Simon of Doing What Works (DWW) and Helen Duffy of the National High School Center, presented on Meeting the Needs of Each High School Student: Adolescent Literacy. The PowerPoint presentation and handouts used during the session, including tools from DWW are available for download below.
COI-RTI Deputy Director Christy Murray co-presented a session with Lou Danielson and Jenny Scala of the National RTI Center on Tiered Interventions and RTI in High Schools: Preliminary "Lessons Learned" Her PowerPoint presentation from the session is available for download below.
COI-ELL Deputy Directory Mabel Rivera served on an expert panel with Diane August (Center for Applied Linguistics), Ana Diaz-Booz (Principal, School of Internal Business, Kearny High School Complex in San Diego, CA), and Libia Gil (National High School Center discussing the challenges for adolescent English language learners. Dr. Rivera's presentation, Addressing the Needs of Adolescent Newcomers, is available for download below.
Dr. Miller also presented English Language Arts & Literacy in History/Social Studies, Science and Technical Subjects: Implications for High Schools, in a session "Implementing the Common Core State Standards in Mathematics and English Language Arts to Promote College and Career Readiness, with Brad Findell (Mathematics Initiatives Administrator for OH DOE), Zach Foughty (Secondary Mathematics Consultant, IN DOE), and Beth Ratway (Great Lakes East and Great Lakes West Comprehensive Centers). Her PowerPoint presentation is also available for download below.