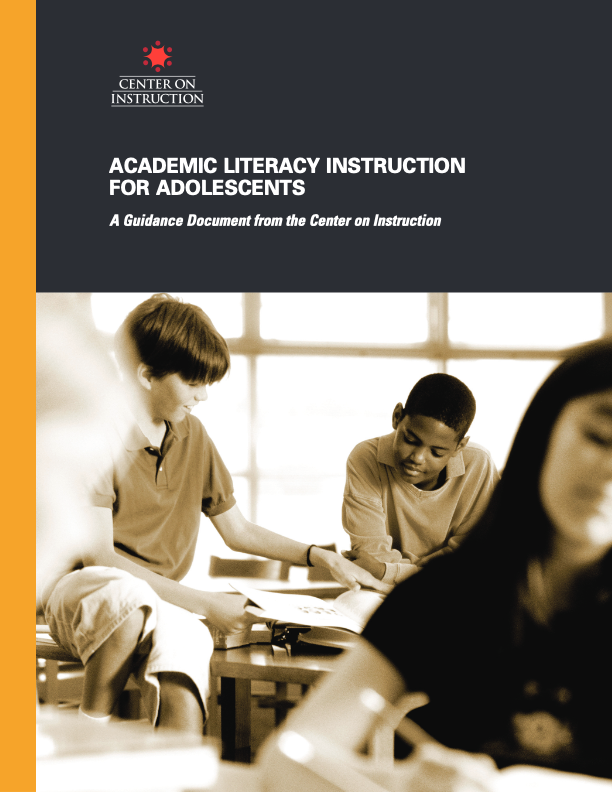 This document makes recommendations for improving academic literacy instruction for students in grades 4-12 in content areas or across the school day, including students reading below grade level and ELL students. Also included are comments from experts in response to questions about methods for improving academic literacy in adolescents and examples of state activities in support of improved adolescent literacy in California, Florida, Rhode Island, and Washington.
A video of author Dr. Joseph Torgesen providing an overview of this document is available here.
Also available is a FREE self-paced online 4-module course based on this document. This course is designed for literacy specialists/leaders charged with improving policies and practices in the area of adolescent academic literacy instruction. Module 1 focuses on the definition of academic literacy, the expected outcomes of improved academic literacy, the goals for improving academic literacy instruction, and essential knowledge and skills students must acquire in order to achieve those goals. Module 2 provides an overview of the five research-based recommendations for improving literacy-related instruction in the content areas. Module 3 describes the interventions struggling readers will likely need in order to learn to read on grade-level, and Module 4 explores considerations and recommendations for supporting the literacy development of adolescent English language learners. To access the online course, click http://rmceducatorsacademy.com/index.php to visit RMC Educator's Academy. If you are a new user, you can create a free account for access to other online courses as well.
These resources can facilitate effective literacy instruction in schools that are implementing School Improvement Grants (SIG) and/or College & Career Ready Standards (including Common Core State Standards).
Academic Lit Instr for Adolescents Guidance Doc COI
CBI Academic Literacy Instruction for Adolescents